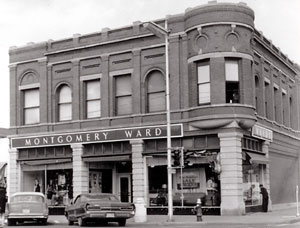 Skinner's Pub is located in the New Century Building in Brookings, SD. The New Century Building, a corner stone of downtown Brookings, was built in 1901, by C.A. Skinner, for Skinner's Department Store.
The building itself is listed on the National Register of Historic Places, which made the initial phase of restoration of the building a blessing and a curse that continues still today after the initial restoration efforts in 1995. Keeping with the preservation of history, owner Greg Thornes aptly named the pub, after C.A. Skinner. The door of Skinner's Pub opened on October 7th, 1996 after eighteen months of restorations by Thornes.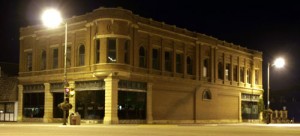 The 15,000 square foot building features 16 feet high pressed-tin ceilings, which took up three months of the initial restoration. The building features the original hard-wood floors and antique fixtures and .
In addition to the historical significance of the building itself is the antique bar and back bar that Thornes stumbled upon in a barn outside of Laverne, MN. The bar, which dates to the 1880's, is believed to be manufactured by Brunswick. The back bar columns are adorned in scroll work and the header features three hand-carved lions heads. The bar is scarred with divots and wear that tell its age. The bottom of the bar is ornamented with the original marble floor trim and a one can still find a "United Amalgamated Woodworkers Union" seal on the bar front.
Now in its eighth year the improvements continue, currently we are working on an addition to our 1,800 square foot Courtyard, which opened in 1999, and new restroom facilities.